---
Billionaire entrepreneur Elon Musk appears determined to remake social media giant Twitter into something not just financially viable but that is a true global forum for all views, and he took another giant step in that direction late this week.
"In response to Musk's demand for a new commitment to a tougher, 'hardcore' Twitter, many remaining staff at the company apparently resigned (or were fired) en masse, and the company announced the abrupt closure of its offices," Revolver News reported on Friday following reports about and announcements from Twitter.
The report contained more details from Zoe Schiffer, the managing editor of the tech outlet Platformer, who noted on Thursday: "NEW: The designers leading Elon Musk's Blue verified project are out, along with the lead web engineer. Many Twitter employees who maintained critical infrastructure have resigned. This is going to look like a very different company tomorrow."
She added: "NEW: Twitter just alerted employees that effective immediately, all office buildings are temporarily closed and badge access is suspended. No details given as to why."
She went on to provide some additional context, however: "We're hearing this is because Elon Musk and his team are terrified employees are going to sabotage the company. Also, they're still trying to figure out which Twitter workers they need to cut access for."
"Offices will reopen on November 21st. In the meantime: 'Please continue to comply with company policy by refraining from discussing confidential company information on social media, with the press or elsewhere,'" she noted further, citing a company directive to employees.
That led some of the usual left-wing suspects who have ripped Musk over his purchase of the platform to respond as though the world was about to end.
"If only we had taxed the rich maybe none of this would have happened," 'Squad' member Rep. Alexandria Ocasio-Cortez (D-N.Y.) scoffed — though she hasn't built anything or accomplished 1/1,000th of what Musk has in his life thus far.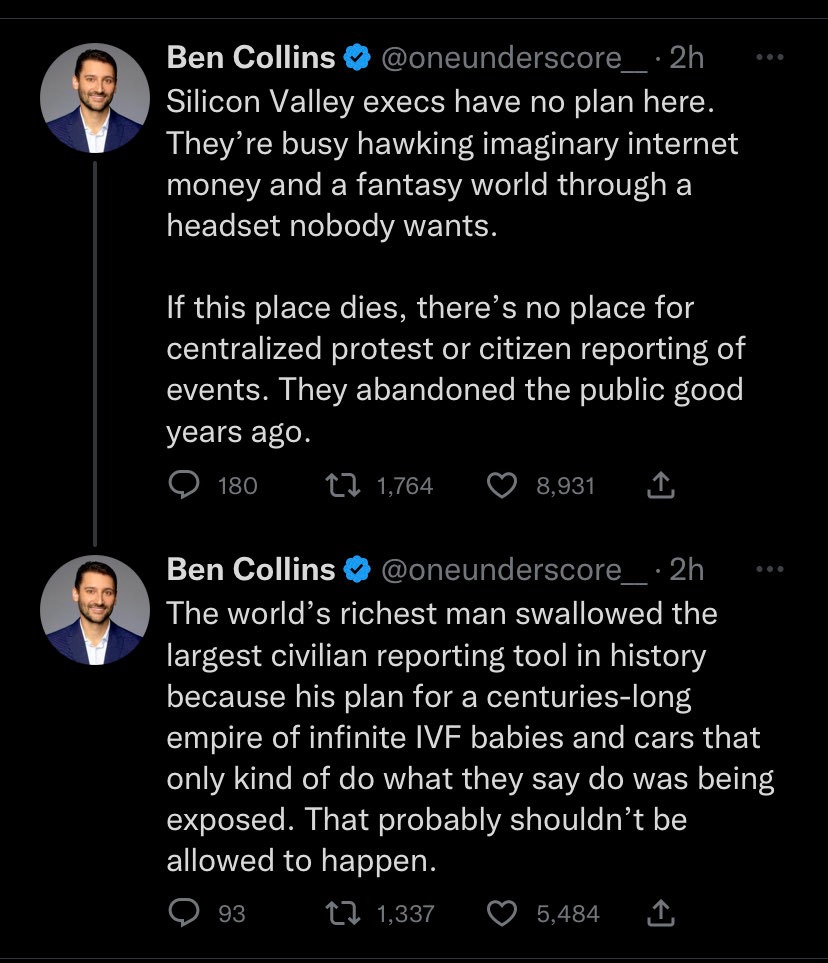 Meanwhile, Musk himself appeared to delight in the pronouncements of Twitter's demise.
He also reminded users that as the platform becomes less and less dominated by intolerant left-wing haters, it also becomes more popular.
In spite of all the hysteria, noted Revolver News:
The vast majority of Twitter as it existed just a month ago has disappeared. And yet… Twitter is still there. If anything, it's a lot better.
This isn't just a compelling and humorous corporate drama. We could be watching a revolution within the tech industry unfold in real time before our eyes. 
In its coverage of Musk's Twitter adventure, our coverage has mostly focused on the transformative impact Musk could have on free speech. But there is an entirely separate, nearly-as-dramatic impact Musk could have on the tech industry itself.
Musk did not spend $44 billion to watch Twitter die. A seasoned businessman, he bought it because he truly believes he can save it and mold it into a legitimate forum for debate as a 'virtual town square.'
So far, so good.
Sources include:
Submit a correction >>